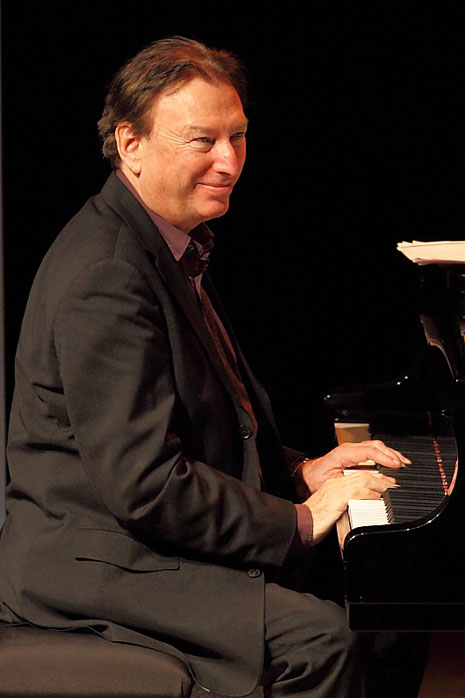 Nalen
Back in the 60-ties I had my own group at the famous jazzhouse NALEN in Stockholm with Lars Gullin and Jan Allan among others. Topsy, Nalen´s owner sent me sometimes out to travel around Sweden with Åke Persson, Benny Bailey and Sahib Shiab- driving 1500 miles during a single weekend.
Lee Konitz - Roy Eldridge - Gus Johnson - Red Mitchell - Anita O´Day in USA
In the middle of the 70-ties I was often doing jamsessions at different jazzclubs in New York . I was playing with some of the worlds greatest jazzmusicians at Half Note, Bradleys, Blue Note etc.
My american friends visiting Sweden
During the 70-80-90-ties many of my colleagues from USA came to Sweden,Together with them I did concerts, tours, recordings and TV: Harry "Sweets" Edison, Eddie "Lockjaw" Davies,Toots Thielemans,Zoot Sims, Al Cohn, Pepper Adams, Stan Getz, Mel Lewis, Thad Jones, Flip Phillips, Red Mitchell, Scott Hamilton etc.
Claes Crona and Putte Wickman
In 1977 I started to play with Putte. We made many albums together, quartets and duo. Many radio- and TV -shows. Latest album "Interchange" was released 1997. Putte is the musician who has inspired me the most in my playing. Putte belongs to the worlds grearest clarinet players all the time developing.
"Grammy" 1984 best jazzalbum in Sweden
The duo album was called " Double Play" and gave us lots of publicity.The ceremony was a live show for the Swedish TV and took place in Berwaldhallen in Stockholm.
Three duo LP albums in the 80s
During three yrears, 1984-85-86 I made three DUO albums with Harry "Sweets" Edison, (Meeting In Stockholm) Gunnar "Silja-Bloo" Nilsson (Something Special) and Niels-Henning Örsted-Pedersen, "With A Little Help From My Friend".
European tour with Benny Goodman
In the 80s I did "the tour of my life". With Benny Goodman, Svend Asmussen, Mads Winding, Bjarne Rostvold and Philipe Cathrine. The tour started in Copenhagen and then Berlin, Hamburg and all Germany and finished in Vienna. We did several radio and TV- shows.As a curiosity I taught Benny Goodman how to play bridge(for two people) in the airplane.
Big Band leader in Spain
During my period in Spain I did concerts with my big band 1996-97. Though I played most the time with my trio. Artists like Arne Domnerus, Alice Babs, Scott Hamilton and many others performed with my trio.
Scott Hamilton
I have played with Scott since 1979 in Sweden and abroad and we have been touring Sweden almost every year. The album "Live at Jazzclub Fasching" was released 1998 with Scott my trio and others.
Eddie Daniels - Buddy DeFranco - Rolf Kuhn
In november 1998 I toured Germany with these fantastic clarinet players "Clarinet Connection". We also did a radio show in Frankfurt with Frankfurt Big Band. A CD is to be released 2000 from the same session.
Putte Wickman - Buddy DeFranco
From the German tour I got the idea to bring Buddy to Sweden and play with Putte and my trio including Hans Backenroth on bass and Petur "Island" Östlund .drums. Two very successful tours 1998-1999.
Svante Thuresson - Katrine Madsen
After listening to Katrines first CD-releases and with Svante featured on one, I deceided to propose a tour with the two worldclass singers. We started to tour year 2000 and we are still doing concerts.The reviews have all the time been fantastic: "A closer vocalist pair you don´t find on this side of the Atlantic Ocean", "Worldclass!!!" etc. The tours continued each year with a great success. Two CD:s were recorded, "Live At Nalen" 2002 and "Box Of Pearls" 2006. Jesper Bodilsen, bass and Petur "Island" Östlund, drums made up the rest of Claes Crona trio.
Crown Jewels
My first trio CD in Sweden was recorded at Sami in Stockholm 1999. We played standards mixed with my own compositions with special arrangements. This CD was followed by a Christmas Cd "Winter Wonderland". The trio with Hans Backenroth on bass and Pétur "Island" Östlund on drums, featuring the wonderful trumpet player Jan Allan. Year 2003 was the third trio CD released "Didima". Once again standards and my own composisions. These three CD:s were all recorded for the label Dragon.
Carnegie Hall
On June the 6th, year 2000, Putte Wickman and my trio played in Carnegie Hall in New York. A CD from the concert was released: "Absolut Jazz in Carnegie Hall".
Bach goes to town
We celebrated the birth of J.S.Bach (250 years) with several tours 2001-2002. The fabulous classical swedish pianist Lars Roos performed in the same concert as Putte Wickman and my trio. The concerts were held in concert halls and churches mainly all over Sweden.
Georgie Fame
I brought the singer Georgie Fame to Sweden the first time year 2000 to play with my trio together with the tenor sax player Nisse Sandström. On the second tour tenor sax player Ulf Andersson joined us. 2005 Georgie, my trio and the the english trumpet player Gay Barker toured Sweden and Norway.
Berlin Jazzfestival
In november 2001 I played at one of Europes greatest jazzfestivals in Berlin. I was playing solo piano and the concert was recorded and broadcasted in Germany.
Eddie Daniels - Putte Wickman
Two of the worlds greatest clarinet players did a tour with my trio in year 2002. The record company Sittel produced a CD "Two Of A Kind" from the live concerts in Östersund and from Nalen in Stockholm.
The new clarinet Connection
I formed a new group of clarinet players. Putte Wickman, Ken Peplowski and Rolf Kuhn. We toured Sweden and we did a few concerts in Germany in the fall of 2002.
Putte Wickman - Ulf Wakenius
Putte Wickman and guitarplayer Ulf Wakenius went to Japan with my trio for a tour in 2002. We did nine concerts. The same summer we toured with the group in Sweden and Norway.
Lill Lindfors
A few very succesful years of touring Sweden and Norway with the outstanding artist Lill Lindfors were to come. On these tours the brilliant sax-flute player Hector Bingert joined the group. We visited concerthalls-jazzfestivals-churches 2004-07.
Arne Domnérus - Putte Wickman
Two of Swedens most recognized jazzlegends together on stage. With my trio we did a number of concerts 2002-2003. Stockholm Jazzfestival, Linköping Jazzfestival etc.
Stacey Kent
One of the worlds greatest jazzsingers toured Sweden 2004 with my trio and Stacey´s husband Jim Tomlinson. We also did concerts in Berlin the same year.
Toots Thielemans
I played in Sweden with Toots in the earlier years. It was such a pleasure and joy to play with him again 2004-2005. We did Christmas concerthall shows in Stockholm and Malmö. We also toured Sweden twice. Jörgen Smeby was playing the bass and Pétur "Island" Östlund drums. Toots was back in Sweden February 2008 to do three concerts in Uppsala Concerthall-Berwaldhallen in Stockholm and Malmö Concerthall. We also did the Saturday Morning Show in Swedish TV4.
A tribute to Putte Wickman
The fabulous clarinet player and friend Putte Wickman passed away on February the 14th 2006. Half a year later after have missed Putte and his reportoire I decided to make an album with only "Putte Wickman Tunes". My trio with Hans Backenroth/ Jörgen Smeby (bass) and the nestor Pétur "Island" Östlund on drums recorded in the Sami Studio in Stockholm, October 2006. The CD was released in 2007 on my own record company CROWN JEWELS. We also started to tour Sweden with the program "A Tribute To Putte Wickman".
Crown Jewels
It was a great success with my first production "A Tribute To Putte Wickman". Pruduction number two followed in the fall of 2007 when I recorded the CD Claes Crona Trio with Three Tenors. The saxplayers Jonas Kullhammar, Hector Bingert and Nisse Sandström with Jörgen Smeby on bass and Pétur "Island" Östlund on drums. Release in March 2008.
Three new releases 2009 (on my own label)
1) Lill Lindfors "Live From Musik vid Siljan"
The famous swedish artist is doing a great live concert which was released summer 2009
2) Vivian Buczek (one of Swedens greatest jazzsingers from Malmö)
Studio recording at Sami in Stockholm - "Dedication To My Giants", with guest singer Roger Pontare and guest guitar player Andreas Öberg.
3) "Remembering Putte Wickman"
Clarinet player Ken Peplowski remembering Putte W. LIVE from Sandviken Jazz Festival 2002. The double CD also includes Ken Peplowski playing tenorsax & clarinet from jazz club Fasching in Stockholm. Recorded in March 2008. Released autumn 2009.
2008-2009-2010 Touring
I had the pleasure making succesful tours 2008 & 2009 & 2010 with:
Viktoria Tolstoy & Svante Thuresson - Lill Lindfors - Louise Hoffsten - Fredrika Stahl - Lisa Lövbrand - Roger Pontare & Vivian - "The best of Ray Charles" with Claes Jansson & sextet incl. choir - Toots Thielemans - "Three tenors" and a few more
2011
A new CD was recorded in Atlantis studio - "American Standards", with my trio - Hans Backenroth-Johan Löfkrantz Ramsay and Special Guest Toots Thielemans. Toots was in Sweden for Christmas concerts in Stockholm-Malmö-Gothenburg and Linköping. Four succesful concerts with wonderful artists besides Toots, Viktoria Tolstoy-Svante Thuresson-Rigmor Gustavsson-LaGaylia-Peter Asplund and my trio. On the off day Toots came down to the studio to record a few songs
2012 - THE BEST OF STEVIE WONDER
A new project with singer Claes Janson, my Sextet incl. Choir. A CD was made with many of the famous songs written and performed by Stevie Wonder. Successful tours during the same year in Sweden. Concerts with LOUISE HOFFSTEN in Cannes, France. Concerts in the summer with different artists: LOUISE, VIKTORIA TOLSTOY, SVANTE THURESSON, LILL LINDFORS, ROGER PONTARE, VIVIAN BUZCEK & PETER ASPLUND, LILL-BABS, THE BEST OF STEVIE WONDER.
2013 - JAZZ VOCAL UNIT
A new Vocal group was formed with VIKTORIA TOLSTOY, SVANTE THURESSON, PETER ASPLUND & VIVIAN BUCZEK. The first concert was held in Stockholm, Skansen in July. In the summer I did tours with different artists. In November touring CHILE with Vivian Buczek and local musicians.
2014 - GEORGIE FAME
A very successful tour in March with GEORGIE, Amanda Sedgwick (altsax/vocal) and my trio with Hans Andersson/Hans Backenroth (bass) Johan Löfcrantz Ramsay (drums) which was followed up with concerts in the summer as well as a long tour in November the same year. My trio did some very successful concerts with the great trumpet player/singer PETER ASPLUND during the year. The summer was also covered with different artists and my different trios: JAZZ VOCAL UNIT, LILL LINDFORS, THE BEST OF STEVIE WONDER (Claes Janson, my sextet incl. Choir), GEORGIE FAME, LOUISE HOFFSTEN with Erik Söderlind (guitar), PETER ASPLUND, VIVIAN BUZCEK. All together around 40 concerts in July/August. In the fall new tours with JAZZ VOCAL UNIT, GEORGIE FAME, and Christmas Concerts, "CHRISTMAS FEELING", PETER ASPLUND with his Big Band in December. With singing stars MARGARETA BENGTSON, ISABELLA LUNDGREN & VIVIAN BUCZEK